The study of dynamical systems began by trying to understand the relationship between the earth and the sun. Since the birth of calculus and modern computing, the study of optimization and dynamics have exploded, bringing new mathematical perspectives to disciplines previously unknown. Both optimization and dynamics continue to be important fields of research in disciplines such as mathematics, physics, engineering, biology, chemistry, and economics.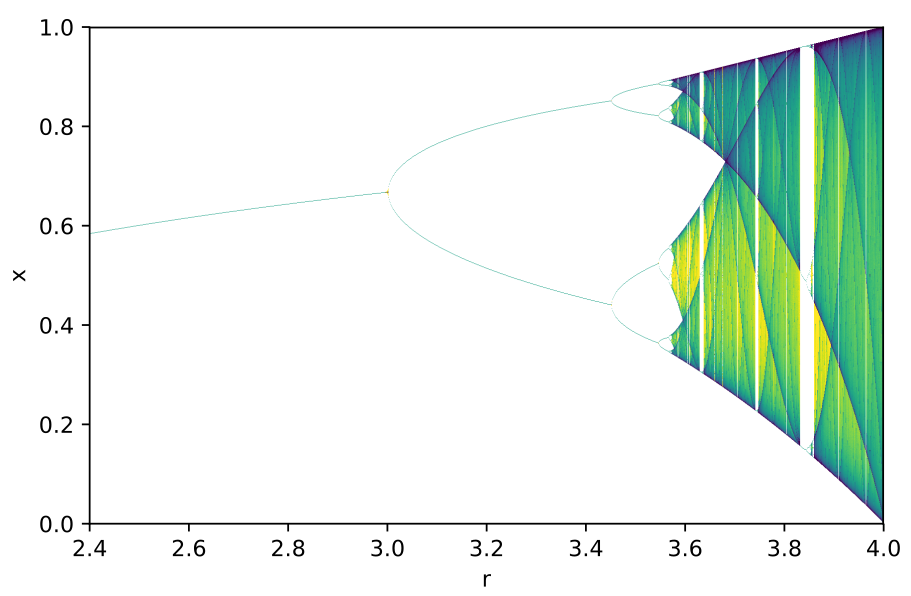 The bifurcation diagram of population growth.
We are using Zoom to meet and discuss virtually. We have two different Meeting IDs: one for Tuesday and one for Friday.
Tuesday: 939-8199-5044
Friday: 967-2582-7899
Documents
---
Problem Sheets
Weekly exercise sheets are to be turned in electronically to your tutor, Dr. Lee. Unless stated otherwise, they are due Wednesdays by 23:59 (GMT+2).
---
Videos
Links to videos (on YouTube) where you can find videos on topics we discuss in the course. These follow the course lecture notes.
Chapter 8
Chapter 9
---
Handwritten notes
PDFs of the handwritten notes made during the lecture may be uploaded.
---
References
---